"Few farmers sit in the shade of the tree they plant."
This reflection was shared with us when we, at the first Symposium on Strength and Solidarity for Human Rights in 2019, planted trees at a farm just outside Amman, Jordan. I have been part of the Symposium as a moderator since early 2019, and during that time, bringing human rights leaders from across the world together in conversation, many insightful views were shared.
Yet this particular phrase has stayed with me ever since I heard it, in part because I wrote it down on a postcard at the time. I found this postcard again when I cleaned out my desk in Berlin in late 2021, when I was leaving the previous organisation I founded, and the words echoed in my head as I've been learning more about the concept of the "good ancestor" and reflecting on Systemic Justice's role in bringing about structural change.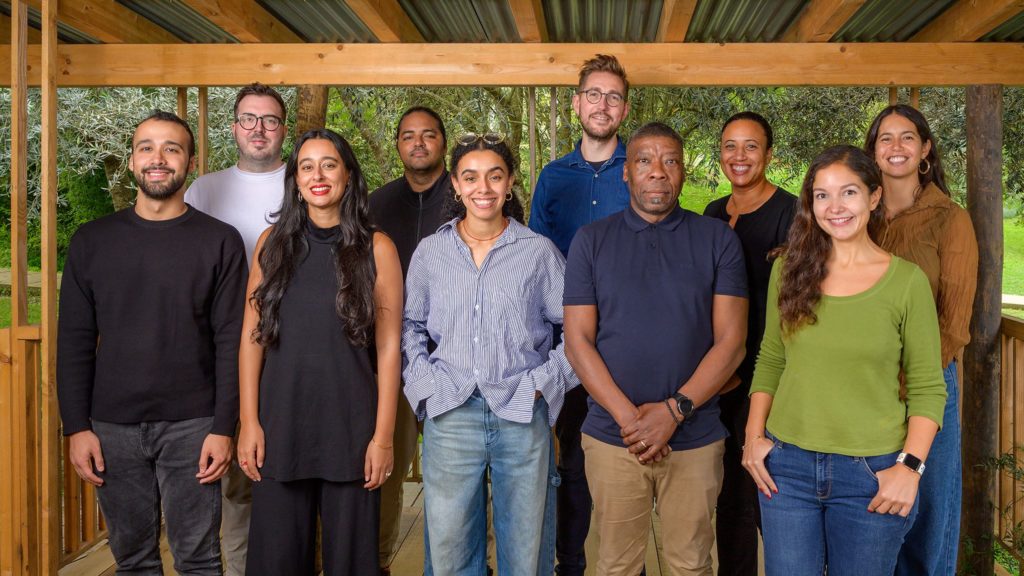 We borrowed the postcard idea for our Systemic Justice team retreats. The word I wrote down for myself at our autumn retreat earlier this month was "guardianship". Lea Jovy-Ford used this phrase in one of the conversations she facilitated there on what it means for Systemic Justice to live our organisational values. The concept of guardianship underlines the importance of building an organisational culture that enables pursuing the mission, allowing individuals to step in and out of that guardian role along the way. 
It was time for us to start a structured, deeper process on organisational culture, with external help. As I have shared before, we started building Systemic Justice from a values first perspective, but it proved difficult to get to a place where our growing team was able to articulate and show what that meant in practice. Conversations at previous team retreats did not get us much further, and I was starting to feel increasing unease about this. In my drive to not be, as I inelegantly call it, "an asshole boss", I apparently failed to bring to the table what was needed to enable people to step in and up the way we expected was intuitive when we conceptualised our values and ways of working. Encouraged by the Board – an example of something we did manage to do very differently! – we started looking for someone to support us in this process and ended up working with Lea, who is working to build an ecosystem of organisations "founded upon diversity of all kinds and equality for all."

The retreat conversations built further on an initial set of conversations Lea had with each team member individually and with the management team together. Questions we looked at were:
In pursuit of our mission, are we a "people first" or a "work first" organisation? (Answer: people first, while not at the expense of the mission.) What do these choices mean, also for how the way we show up affects our colleagues?
What is needed for people to be able to show up as their full selves at work, especially if most of us have been conditioned in working life so far not to? Which part of this is our own responsibility and what does the organisation need to facilitate?
What systems and processes should be in place to create a work environment that enables team members to fully step into their leadership in co-creating the organisation? Which parts of this are individual paths of growth and which parts are the organisation's?
How can we account for the very different lived experiences within the team and create a better understanding of other perspectives than our own?
How do we create as much space for joy in the work as we do for addressing the things that need to be fixed?
This kind of work is challenging, both from a personal perspective – it requires a great degree of self-reflection and a willingness to hold yourself accountable – but also from an organisational perspective. The society in which we're embedded cannot be disregarded here: we are operating in a system that is set up to destroy liberatory, transformative work. So besides the energy we need to put into the process itself, we're also resisting the pressures of the status quo. And the two are of course connected: what may show up in people individually to a large extent will be the result of the way they've been harmed by the system at large.
An important step for me as a founder is realising that not only can I not fix all of this for everyone I work with, it also is not for me to hold. I can take responsibility for committing to this process for the organisation and making sure the time, space, and resources are made available to set that process up for success. I can also take responsibility for my own learning journey. But everyone's journey is their own. For some, this will be a worthwhile one and others will opt to tap out. And that's ok: we are not all ready to lean into the uncertainty of something new at the same time.

One thing that has become clear for me over the past months is that I want to find ways in which joy can become more central in the work – any work – I participate in. To remind myself of this, I will keep that postcard with "guardianship" on it on my desk. We are here to do our part of the work, building on what others have done before us, and the next generation will continue when we exit the process. We'd better make our contribution to the revolution as joyful an experience as we can.