"Bringing people together with the same values is so important."
On 21 and 22 April, Systemic Justice hosted its first roundtable, focused on climate justice. 12 participants from across Europe gathered for two afternoons to share space online and explore opportunities for action to address the intersectional harms resulting from the climate crisis.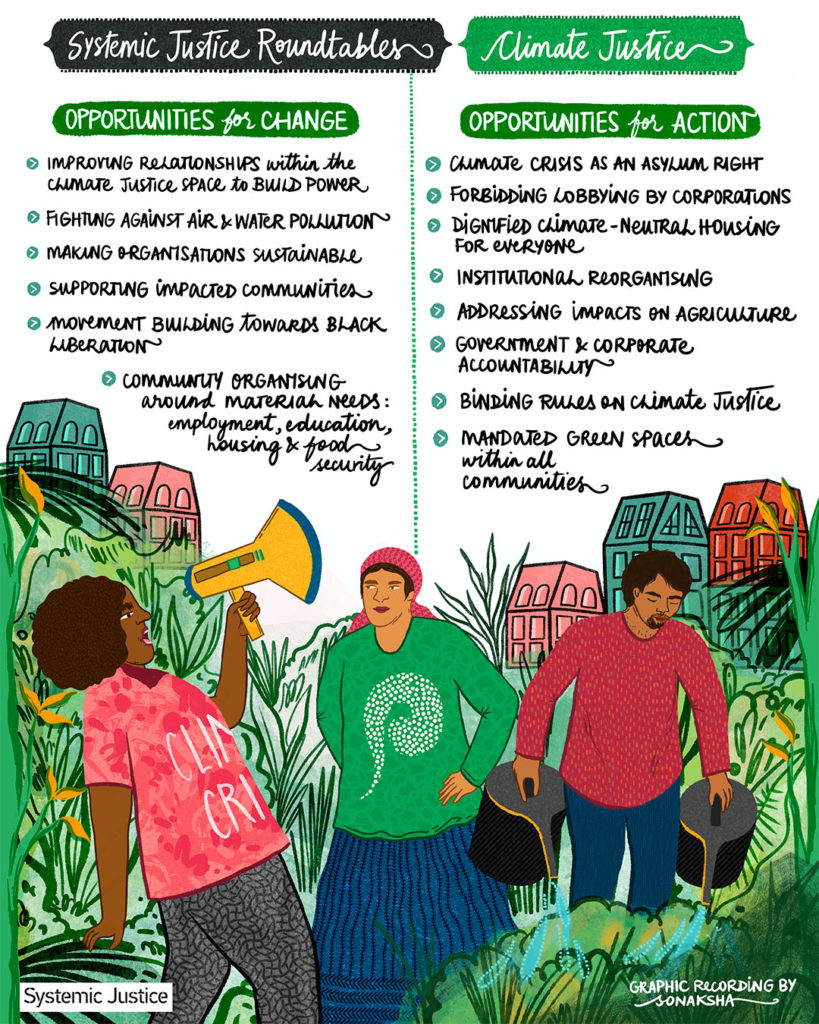 While the climate crisis affects us all, marginalised communities feel its effects the most. The struggle for climate justice and for racial, social, and economic justice are therefore inherently interconnected.
The roundtable is the first in a series of six that explore priorities in racial, social, and economic justice as considered by communities and movements with direct experience and knowledge of such injustices in Europe. It is part of a broader analysis to help determine Systemic Justice's direction of travel for developing community-driven litigation projects and to provide a picture of what challenges communities are fighting.
The urgency of climate crisis is acutely felt across the globe. Courts are picking up on this as well and the recent period has seen a number of important wins on the climate justice front. The Urgenda case in the Netherlands was a first in holding a government to account for carbon emissions. This is causing a ripple effect: lawyers across the world are building on this precedent to do the same against other governments. Shell was held accountable for the damage it caused in the Niger river delta. And we are hearing more and more about cases being filed almost daily, including by groups of young people.
Yet, the vast majority of these cases do not take an intersectional perspective. Much like the more visible work on climate justice is dominated by a white, middle-class, and able-bodied perspective, the same applies to climate-related litigation.
This while it is clear that certain communities bear the brunt of the climate crisis the most. For example, people living in social housing are more likely to be affected by climate impacts, such as a higher likelihood to live in flood areas. People with disabilities can be disproportionately affected by extreme temperatures. And people placed in polluted or toxic environments will experience illnesses that could have been avoided, and bear increased health costs as a direct consequence.
Many more cases could be built to tackle this compounding injustice, building on the pioneering work that Rosamund Adoo-Kissi-Debrah is doing following the tragic death of her daughter Ella from air pollution. Lawsuits have begun being filed in France. Or a recent case that was filed at the European Court of Human Rights against Austria by a petitioner with a temperature-dependent form of multiple sclerosis, causing him to lose more muscular control as temperatures go up. He argues that the Austrian government's inaction on the climate crisis violates his right to privacy and family life. We need more work that accounts explicitly for communities' lived experience and push for the structural changes needed –– be it in law, policy or practice –– to prevent further harms.
"When you look at the climate crisis you have majority white countries who have emitted the most and majority black countries are affected the most. Yet the racialised debate is often left out. Most of the money still goes to majority white orgs. There is not enough climate finance and it is not going to racialised people." said one of the participants during the roundtable. This theme of being under-resourced came out clearly during the initial conversations: participants felt they were taken away from their activism due to competing demands for their time, one of which was the search for elusive resources to sustain their work and campaigns.
Another thread that ran through the exchanges was one of exclusion within the climate movement, along both race, class, and geography lines. Yet naming and acknowledging these dynamics were considered crucial for looking at climate justice in a holistic way. As one participant put it: "We cannot discuss climate justice without talking about colonialism and capitalism."
Though there was a frank acknowledgment of the challenges, there was no shortage of energy when it came to identifying opportunities for action. Accountability for both corporate and state actors at all levels, and the inclusion of climate justice in the broader debate on reparations for colonialism; world-wide cases on air pollution; getting the climate crisis accepted as an asylum right; making urban development –– housing, transport –– climate-neutral; the room was brimming with vision and ideas.
At the end of two productive afternoons, participants expressed how good it felt to connect with others doing similar work, especially after the restrictions the pandemic had placed on such exchanges. There was excitement at the prospect of staying in touch and connecting with participants of upcoming roundtables. And: so are we! Dancing to our co-created playlist on Zoom was fun, but we cannot wait to do so in person next year. Nor can we wait to get started on developing litigation projects based on the great ideas formulated. But who says you can't have it all?